Protecting your home, which is the most precious thing you own, requires having home insurance. It might be difficult to understand the intricacies of home insurance coverage, though. In this thorough guide, we'll examine the many types of home insurance protection and offer advice on how to pick the best plan for your individual requirements.
This article seeks to arm homeowners with the knowledge essential to make informed decisions and ensure that their houses are adequately protected, from comprehending the fundamental elements of home insurance to assessing extra coverage possibilities.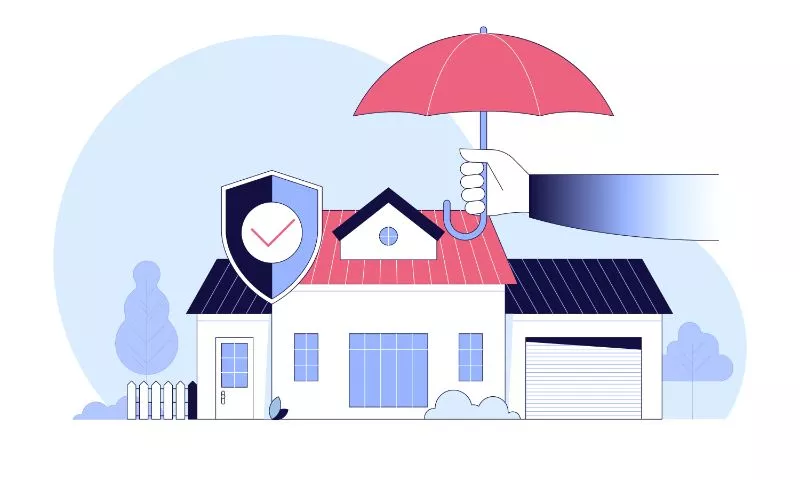 The Basics of Home Insurance
Property coverage and liability coverage are the two main parts of most home insurance policies. Your home's physical structure, including the building itself, as well as any additional structures, like garages or sheds, are covered by property coverage.
Also, insurance protects against risks like fire, theft, vandalism, and some natural disasters your personal property within the house, including furniture, appliances, and clothing.
On the other hand, liability insurance safeguards you in the event that someone is hurt on your property and you are held legally liable. It aids in paying for medical costs, court costs, and any losses brought on by a responsibility claim.
Since it serves as the cornerstone of your home insurance protection, it is critical to understand the scope of the property and liability coverage in a policy.
Additional Coverage Options
Standard home insurance policies offer the fundamental protection, but depending on their unique situation, homeowners might wish to look into extra coverage alternatives. Typical add-ons include:
a) Extended Replacement Cost Coverage: This coverage ensures that your home can be rebuilt or repaired even if the cost exceeds the policy's coverage limit.
b) Personal Property Endorsement: Valuable items such as jewelry, artwork, or collectibles may require additional coverage beyond the basic limits of a standard policy.
c) Flood Insurance: Standard home insurance policies typically do not cover flood damage. If you live in a flood-prone area, obtaining separate flood insurance is highly recommended.
d) Earthquake Insurance: Similarly, earthquake coverage is typically not included in standard policies. Depending on your location, earthquake insurance can be crucial for protecting your home and belongings.
e) Sewer Backup Coverage: This coverage protects against damage caused by sewer or drain backups, which can result in costly repairs and property damage.
Factors to Consider When Choosing a Policy
The correct house insurance policy selection necessitates careful consideration of a number of criteria. 
To remember, have the following in mind:
a) Coverage Limits: Ensure that the coverage limits for property and liability are sufficient to rebuild your home and replace your belongings in the event of a total loss. Assess the value of your assets and consult with professionals if necessary.
b) Deductibles: Understand the deductible amount you would be responsible for paying out of pocket before the insurance coverage kicks in. Consider your financial capabilities when choosing a deductible.
c) Policy Exclusions: Read the policy exclusions carefully to understand what is not covered. Some policies may exclude certain perils or have limitations on coverage for specific items or events.
d) Insurance Provider: Research the reputation, financial stability, and customer service record of potential insurance providers. Look for companies with a history of prompt and fair claims settlements.
e) Discounts and Bundling: Inquire about potential discounts for security systems, smoke alarms, or bundling your home insurance with other policies like auto insurance. These discounts can help reduce premiums.
f) Reviewing and Updating: Regularly review your policy to ensure it aligns with your current needs and property value. Inform your insurance provider of any significant changes, such as renovations or acquisitions, to avoid coverage gaps.
Seeking Professional Guidance
It can be difficult to choose the best house insurance plan, especially when additional coverage options are taken into account. It might be really helpful to seek out expert advice from a seasoned insurance agent. An agent can evaluate your unique requirements, aid in your comprehension of the available choices, and assist you in making your decision. They can also offer information on regional dangers and suggest appropriate coverage upgrades according on your location.
---
To safeguard your home and personal property, you must understand home insurance coverage. Homeowners can choose a policy with confidence if they understand the fundamentals of property and liability coverage, evaluate additional coverage alternatives, take into account pertinent considerations, and seek professional advice. Keep in mind that home insurance is an essential purchase that offers security and peace of mind. You can protect your house and possessions against unanticipated calamities by having the appropriate coverage in place, giving you the peace of mind to rebuild, repair, and recover.